Our History
The Start Of Chair City Oil Company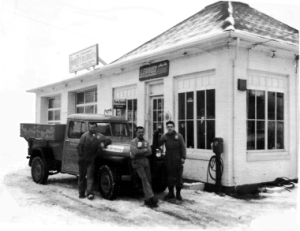 Shortly after returning from World War II, Paul Tourigny and two close friends purchased a small gasoline and auto service station on Main Street in Gardner, Massachusetts.  Chair City Oil was born.
By working long, hard hours they were able to raise families, grow the business, and eventually expand by buying an old oil truck and delivering home heating oil to area homes. Competition was stiff back then and dozens of small companies sprang up to meet the needs of the central oil heating boom.
As the oil heating market matured, it became clear that to serve all of their oil customers heating needs, the company must also install and service heating systems and equipment.  Paul learned all he could about "modern" oil heat and took every opportunity to get the schooling and experience needed to become an expert and a leader in the local oil heat industry.
     Chair City Oil Today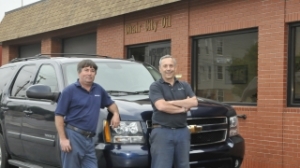 Paul would be proud of what has become of Chair City Oil. Under the leadership of his two sons, David and Michael, and now David's son, Peter, and their team of dedicated employees, the company has become the area's most trusted name in full service oil heat. At Chair City Oil, we pride ourselves on our commitment to customer satisfaction and our dedication to providing the best solution to all of our customers' heating needs.
Chair City Oil delivers the best heating oil for your system and the environment – ULTRA2 Premium Heating Oil.  In 2005, we completed a comprehensive modernization of our oil storage facility and now have the most dependable, efficient, and environmentally-safe plant possible.  We provide prompt, dependable, computerized delivery with our fleet of radio-dispatched trucks and drivers who know the area.
Chair City Oil employs professional licensed oil heat technicians to provide our customers full heating service, 24 hours a day, 365 days a year.  We design and install today's best oil heating systems  – from complete multi-zone radiant and baseboard heating systems to quality name brand burner or boiler replacements. And we handle the complete process ourselves – fast, efficiently, and reliably – with no subcontractors or third party companies getting involved.
Chair City Oil is dedicated to providing not just top quality products and service, but the best value for your money, too.  We deliver ULTRA2 Premium Heating Oil to all of our customers for the same low price others charge for regular heating oil.  As a leader in oil price protection plans, we can custom design a home or business budget plan that guarantees you will never pay for price spikes and will always receive the lowest discounted price available.  Other options include fixed pricing, prepaid volume discounts and ten day same-as-cash discounts.
The Future of Chair City Oil
A fourth generation of the Tourigny family has now joined Chair City Oil. Peter's sons have become a part of the company to continue its growth. Together, with our professional staff, we look forward to continuing our commitment to Greater Gardner's community and to our customers, providing them with the best solutions for their oil heating needs.
Our goal has not changed – build upon our successful approach to customer satisfaction, focus on the needs of our customers, and treat them as we would like to be treated ourselves.