SmartPay Budget Payment Plans
SmartPay Budget Plan
Get peace-of-mind with regular, affordable monthly payments for your oil heat. Because 75% of home heating oil consumption happens during the four winter months, it can be hard on a household budget to pay large bills right around holiday time. Using your past year's usage we can custom design your budget to help you manage your heating costs. All budget plans start in May and provide twelve equal monthly payments (nine-month payment plans also available). As a budget plan customer, you always receive the best price with automatic, same-as-cash discounts year round when your oil is delivered. Learn more about our SmartPay Budget Plans.
  Here's how a Chair City Oil SmartPay Budget Plan works.
Using past years records we estimate the annual gallons you may use. We then multiply your estimated gallons times the average price forecast for the coming year. Now that we have estimated your annual cost, we simply divide by the number of monthly payments. It's that easy!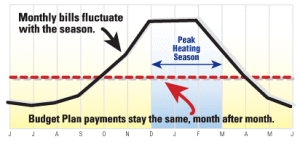 Joining a budget plan is easy. Give us a call at 978-632-4600 or use the Contact us form here on our web site. We'll do all the work to calculate and send you a detailed Easy Budget Plan customized for your home.
Budget Plans normally start every May. Think how happy you will be that you choose to pay even monthly payments during the cold winter months.
For more information and a FREE home heating system consultation, call 978-632-4600 or use our Contact Us page.
We also offer the option to add Price Protection to your budget plan.