Tank Shield Oil Tank Protection Program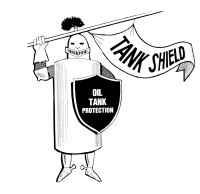 TANK SHIELD represents an industry-recognized, proven method for the prevention of corrosion in fuel oil storage tanks.
TANK SHIELD is a highly concentrated composition of proven, highly active water and acid inhibitors that work together to effectively provide these critical functions:
Inhibiting the corrosion of storage tanks due to water deposits
Neutralizing the acidic nitrogenous wastes of micro-organisms.
Preventing metal attack caused by sulfurous, acidic water bottoms.
Coating tank walls so as to prevent both general corrosion and pitting.
Providing an inexpensive insurance policy against tank leaks.
Extends tank life.
Protection and Guarantee only $32.95 annually!
Enrolling in a Tank Shield program is a simple, inexpensive way to give you peace of mind that you are taking action to protect your oil storage tank. This is an annual program, during which time if your tank should leak you will receive a brand new, standard 275 gallon tank at no cost! This is a retail savings value of up to $937.
The cost for each tank is $32.95 per year and billed only once during a spring delivery. If your tank leaks you receive a standard 275 gallon tank at no cost. The cost of installation and replacement of tank are not covered.
Interested? Give us a call, visit, or use our chat to request Tank Shield Protection Program for your home.