How We Serve Our Customers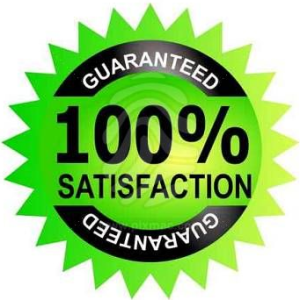 Call, Click or Visit – it's always up to you!
Your satisfaction is our goal. Our approach to everything we do is designed around how we would like to be treated if we were the customer. We hope this page helps you understand how we can help you by answering some questions you may have about how we hope to serve your needs. Here's a summary page of information to help you get started.
Office Hours of Operation
Weekdays, 8am to 5pm from October through May. (8am to 4pm during the summer.)
Saturdays, 8am to Noon from November through April. (Closed during the summer.)
Closed Sundays, 24 Hour Emergency Service is always available to our customers.
Communicate with us
Visit us at Chair City Oil, 525 Main Street, Gardner MA 01440 (we are across from Price Chopper supermarket)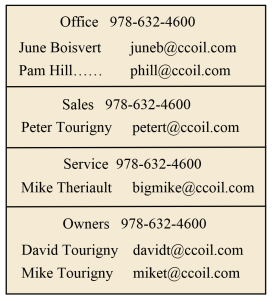 Call (978) 632-4600 during office hours and chances are that June or Pam will be the first voice you hear. We do not have recordings or annoying telephone systems; we talk to you. We have a very busy office during the heating season but your call is very important. We intend to understand your orders and requests completely and be sure they are given the priority they require. Most orders and questions can be answered quickly. Some may require more time and if necessary we will call you back with solutions.
Service calls are scheduled by both June and Pam as well as Mike Theriault, our service manager, and Peter Tourigny, the general manager. When it is very cold and busy we will prioritize your needs. Please understand it is very difficult to pinpoint the exact time the serviceman will have completed his work and arrive at your door. We realize your time is important and we will do everything we can to make appointment times work. We are expected to call you if we are running off schedule – please be sure we have a working contact number.
Every employee is expected to do whatever they can to satisfy your needs.  Do you have a need to communicate with an owner? Please do. Call or email David Tourigny or Michael Tourigny.
After Hours – When our office is closed
We ALWAYS have a serviceman on call 24/7. We have a professional answering service, with real people, who will take your emergency calls when our office is closed and contact the on-call employee. A service tech will call you back to take care of your needs. Call the same number (978) 632-4600 and let it ring until answered.
Oil Delivery Schedule
You can choose to watch your tank and call when you would like a delivery or depend on us to keep you supplied with our accurate, computerized automatic delivery system. If you choose to call – call at least a day ahead. We deliver in Gardner daily, including Saturday mornings during the winter. We follow this out of town schedule:
Mondays        –  Gardner, Templeton and Phillipston
Tuesdays       –   Gardner, Ashburnham and Winchendon
Wednesdays –   Gardner and Hubbardson
Thursday       –  Gardner, Otter River and Baldwinville
Friday              –  Gardner and Westminster
Oil Minimums & Discount Pricing
Automatic deliveries always receive 20 cent per gallon discount when paid within 10 days with no existing balance.
Call in for 150 gallons and receive a 20 cent per gallon discount when paid within 10 days with no existing balance.
Call in for 100 gallons and receive a 10 cent per gallon discount when paid within 10 days with no existing balance.
A call in for 50 gallons is not discounted and an additional $25 delivery fee is applied.
Service Repair Work
We guarantee our work and your satisfaction. We employ seven professional, licensed heat technicians. Our hourly rate while we are open is $89.00. The rate is $133.50 after hours when emergency service is required.
Annual tune-ups are performed year round and the average cost is $150 to $160 which includes labor, a new nozzle and filter, and sales tax.
Online Customer Account Access
Within 24 hours of setting up a new account you will be able to access your account online to order oil or service, make payments, and review all details of your transactions, equipment, deliveries and preferences. This is available 24/7 and is highly secure. We encourage anyone who wishes to use this method not to hesitate, however, we remain happy to talk with and meet you whenever you wish.
Accepted Payments
Master Card, Visa, and Discover cards are accepted during office hours over the phone, in person, or online 24/7.
Cash can be taken in person during office hours or correct change can be paid to delivery and servicemen.
Checks payable to 'Chair City Oil' are accepted on approved accounts. Checks can be left in the office mail slot located to the right of our door 24/7.
Financial Assistance
Providing safe, affordable heating fuel and service to our customers is most important to us. We encourage everyone to consider a monthly budget plan as it is the easiest way to pay.  Budgets offer equal, monthly payments. We are happy to provide you a budget plan customized for your home.
If you, or someone you know, needs financial assistance to help pay for heat, please visit our FINANCIAL ASSISTANCE page for available solutions.
Special Needs
We truly wish to treat you like friends. We go out of our way to provide extra care to the elderly and anyone with needs who require additional attention.